What I really do
in less fair English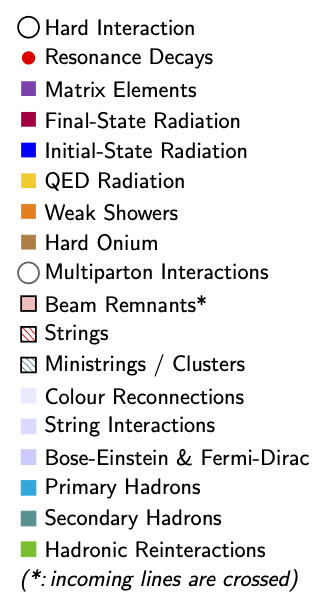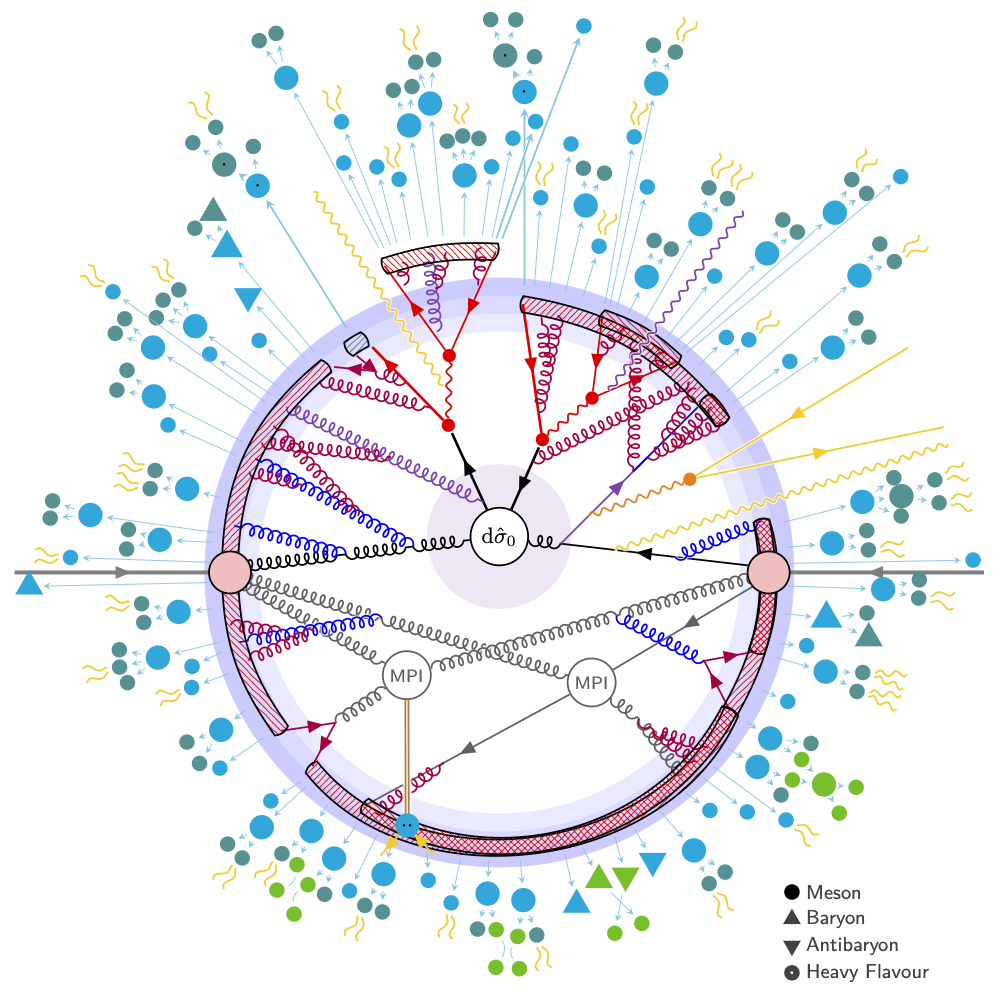 Event generators can be used to generate high-energy-physics "events", i.e. sets of outgoing particles produced in the interactions between two incoming particles. The objective is to provide as accurate as possible a representation of event properties in a wide range of reactions, within and beyond the Standard Model of particle physics, with emphasis on those where strong interactions play a role, directly or indirectly, and therefore multihadronic final states are produced. The physics is then not understood well enough to give an exact description: instead the programs have to be based on a combination of analytical results and various QCD-based models.
The calculations are based on quantum field theory, spanning both rigorous solutions and phenomenological models, and are cast as Markov Chains, solved using random-number Monte Carlo methods. The physics areas include hard subprocesses, initial- and final-state parton showers, underlying events and beam remnants, fragmentation and decays, and much more. The programming language of choice is currently C++, with predecessors in FORTRAN.
The event generator PYTHIA is a general-purpose vessel for exploring phenomena both within and beyond the Standard Model. It is one of the most widely used tools in high energy physics. Its hallmark feature is the "Lund string model", used to model "hadronization" (the process by which quarks and gluons turn into hadrons). Strings are a universal phenomen that appears in extremely diverse physical systems, from superconductors and superfluids to cosmic strings. The strings in QCD enforce "confinement" - their strong pull locking quarks and gluons away inside nucleons, unable to escape. (If this sounds slightly similar to what black holes do by way of gravity, then perhaps there are even things to be learned by comparing the physics of strings to that of black holes. That's one current research question I would love to know the answer to.) At present, we model QCD strings as simple 1+1-dimensional worldsheets with a tension of about 1 GeV/femtometre, and the string-breakup process by quantum tunneling. My contributions include the development of transverse-momentum-ordered parton showers, a more sophisticated model of the "underlying event" which forms the basis of much of the current modelling of LHC collisions, a fragmentation model for Y-shaped "string junctions" which can appear in exotic new-physics decays and baryon beam-remnants, models of colour reconnections in proton-proton collisions and top quark decays, and interfaces to supersymmetric and other new-physics scenarios. By careful examination of the available experimental constraints on the physics models, I have also provided some of the main parameter sets ("tunes") used by both the experimental and phenomenological communities for theory comparisons, such as the "Perugia" family of tunes for PYTHIA 6 and the more recent "Monash" tune for PYTHIA 8.
The more specialized program VINCIA explores a new method for generating perturbative corrections to high-energy scattering processes, in particular those associated with "jets" in quantum chromodynamics (QCD). It is based on the observation that jets have fractal patterns inside them, quantum structures of jets-within-jets and fluctuations-within-fluctuations. VINCIA works by first building up this semi-classical self-similar ("fractal") radiation pattern, using a formalism called leading-colour antenna factorization (adapted for implementation as a Monte Carlo Markov Chain algorithm). By taking the running coupling into account, trivial departures from true scale invariance can be taken systematically into account. Genuinely non-fractal (process-dependent) quantum corrections are then finally imprinted on top of this "renormalization-group-improved" pattern, via an innovative approach unique to VINCIA: interleaved matrix-element corrections. The latter are calculated systematically order by order in perturbative quantum field theory, a task which today is mainly handled by other computer programs, rather than by hand. The approach to quantum corrections taken in VINCIA contrasts greatly with other state-of-the-art techniques, which are mainly based on separating phase space into "hard" (high-energy) and "soft" (low-energy) regions, and merging together many separate event samples, one for each order of perturbative corrections. The formalism we are developing for VINCIA allows a single unweighted event sample to be produced in one go, with very high sampling efficiencies and high CPU speeds. It also allows for a wide scope of automated uncertainty evaluations, giving it the ability to make a comprehensive estimate of how reliable it thinks its answers are, for each generated event.